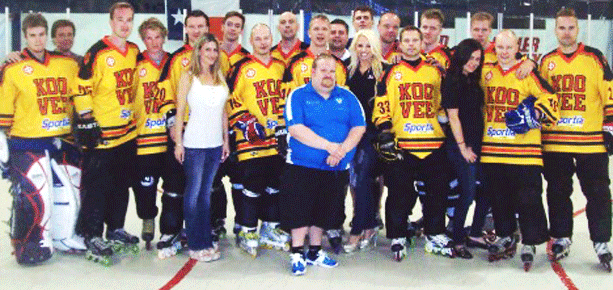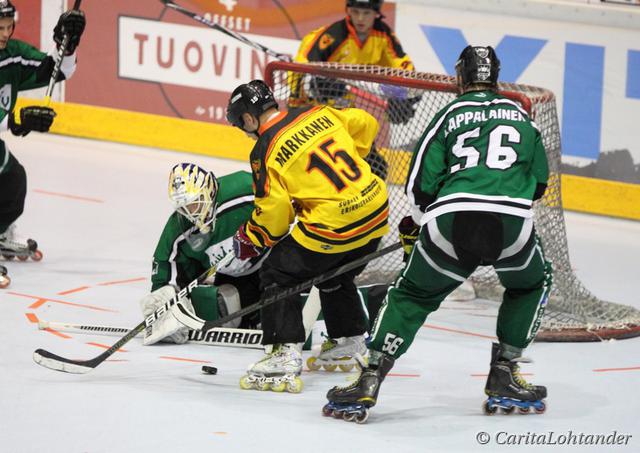 World-wide PRO Roller Hockey

CAN THE KOOVEE ROLLERS MAKE IT TO THE SHOW?

One of the unluckiest roller hockey teams

in all of MLRH  is in danger of missing the championship round in Mannheim.

Koovee (in yellow) in their 2-1 loss to Vuorlean

The Rollers with fans in happier times at the MLRH Championships in

West Palm Beach, Florida.

First of all, everyone who has ever seen the Koovee Rollers believes they are a great MLRH roller hockey team and belong in any discussion about the league's top teams.

Secondly, these guys may be the unluckiest MLRH team to ever lace 'em up.

Consider their fate in Florida in the 2012-13 championships against the Breakaway Bullies.  In game one of a best-of three series, they tied the Bullies with less than a second on the clock, going on to win in OT.  They dropped game two but in game three, trailing by two goals late, they rallied to tie the Bullies,only to lose by a goal in the final minute.

While MLRH fans were looking forward to a rematch in Mannheim, the Rollers managed to lose another heartbreaker, 2-1 to their big rivals, Vuorlean Veikot in the MLRH Europe Summer Cup Championship Qualifier.

Now the road gets tougher for Koovee.  They could punch their ticket at the Mannheim Octoberfest event but that is going to be a huge field.  It's a long way to France or Spain from the Finnish Tundra but fans are hoping that these guys get lucky one more time.

One thing for sure, everybody likes the Koovee Rollers

and is rooting for them.