Major League Roller Hockey announced today that Dennis Murphy,one of the legends of roller hockey and one of the great professional sports innovators, will own the expansion Huntington Beach franchise to be called the So Cal Bulls.

Dennis Murphy  almost single-handedly created the American Basketball Association, World Hockey Association, World Team Tennis, Roller Hockey International, and many other professional sports leagues. Furthermore, he was directly responsible for changing the styles that pro sports are played today in so many leagues, as well as still affecting the lives of so many professional sports athletes, even to this day.

He never made a three-point shot at the buzzer to win a pro basketball game, but without him, there would be no three-point shots. He never played on any NBA team, but without him, there would be no San Antonio Spurs, no Indiana Pacers, no Denver Nuggets, no New Jersey Nets, and maybe even no scantily-clad cheerleaders entertaining pro sports fans. Without him, there would be no NHL Edmonton Oilers winning five NHL Stanley Cup championships. There would be no sudden-death, sudden-victory overtimes in pro hockey, which were all an outgrowth of this innovator's creations. Without Dennis Murphy, there would never have been Roller Hockey International.

In addition to all of that, without him, all professional sports players today might still be forced to stay with their initial draft team, forever.

Dennis Murphy drops the ceremonial puck at the Edmonton Oilers' 40th Anniversary

Celebration. The Oilers were in Murphy's World Hockey Association as the Alberta

Oilers before merging in to the National Hockey League.

Murphy on the start of the Roller Hockey International : "There were a bunch of kids playing hockey on the streets with a net and the whole bit," Murphy said. "I said, 'Gee, that sounds interesting.' So I got my two partners together, Larry King and Alex Bellehumeur, and we decided to try to go ahead and put together a new league."

Dennis Murphy's founding involvement and innovations in the games of basketball, hockey, tennis and roller hockey still impacts sports to this day.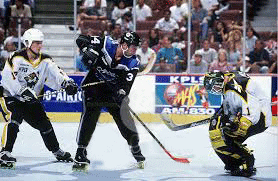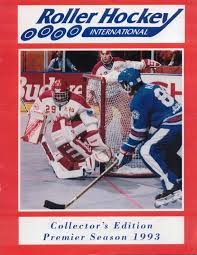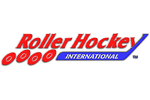 Dennis Murphy will own the South County Bulls

playing out of Huntington Beach, CA.

Above, left to right, Eddie Limbaga, Captain of the Bulls, owner Denn9is Murphy and Head  Coach

Berkley "The Refrigerator" Hoagland.

Bulls name Captain and Coach for their

inaugural season.

PRO Roller history -

MLRH Commish Doug Jones and Berkley Hoagland were both teammates on the IHA SC Bulls, the pro team from 2004 - 2006. The Bulls were on top of the IHA league with a 6 - 2 record when the league suddenly folded...